Bell Model 2122 Tube Amplifier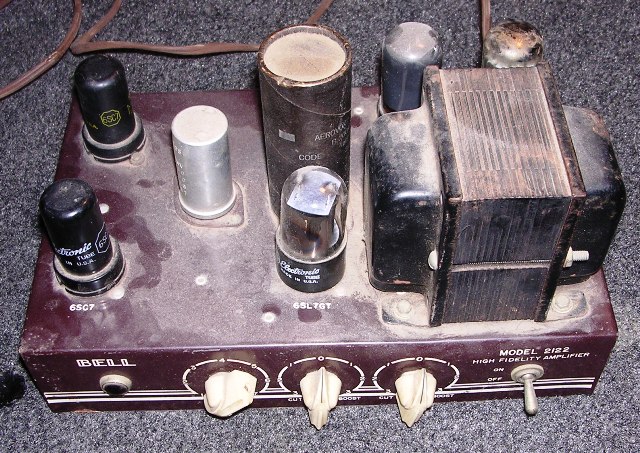 As I got it

A good customer hooked me up with this, a Bell Sound Model 2122 High Fidelity amplifier. Well, he said it was in a pawn shop for years. He the acquired it. It sat around for a few more years until I got some time to fix it.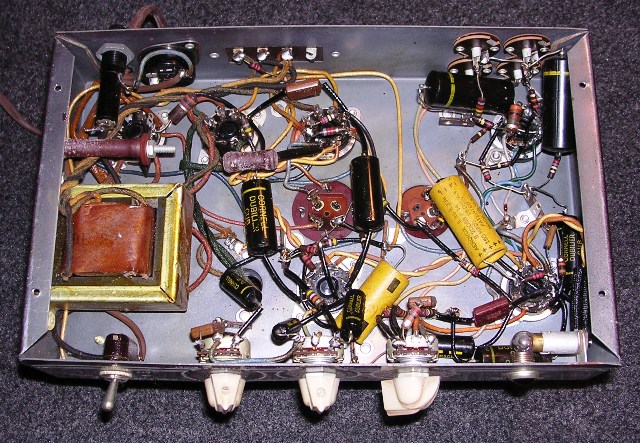 Worn-out parts

Completely original parts. The chassis was bent inward around the power transformer. Must have been dropped or stepped on. Cord also was brittle and broken. This was a fire waiting to happen. As I pulled the parts, I realized and was not surprised that ALL the coupling caps were toast. Not one measured anywhere near close to being in spec. The plate-load resistors were out of whack as well. I didn't bother even testing the electrolytics.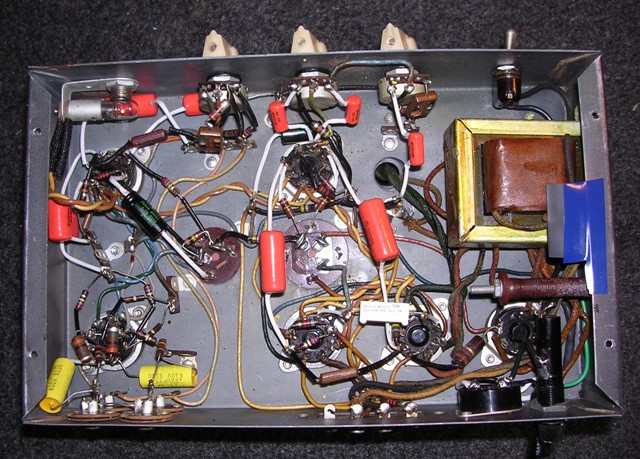 Rebuilt chassis.

Used Sprague Orange Drops throughout except for some coupling caps on V1 where I used Mallories. 6SL7 phase inverter tube was bad (well, tested extremely WEAK) so it got replaced, 6SC7s were weak as well, but I left them in for now as they worked OK and were fairly quiet. 5Y3 was good, as was one of the 6V6s. The other was basically through. I went through all my strong used ones and matched up a perfect pair (literally - less than .5 mA apart when in circuit!). I rewired the power cord to a 3-prong, and changed it so that if the fuse blows, there is no live voltage on the chassis (UL conversion). So it is safe now. Changed out the original filters with modern CE equivalents (gotta love those new caps made on old Mallory machinery) and added a new bulb.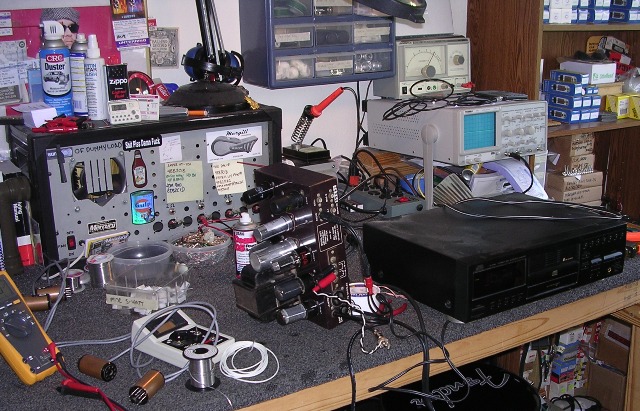 Firing her up

She fired up without a hitch. Had to rebias with the new 6V6s and clean the pots. Ran her through my '61 Super for the test run. OH YEAH! Now that sounded horrible LOL! It turns out that a good friend of mine got excited when she found some of her old records (Ted Nugent YEAH!) I had recently got my old turntable working, so she wanted something to play her albums on as well. She has an antique victrola-style cab that would fit a modern turntable on the top, and a small amp and speaker in the bottom. So, I took a spare speaker box I had, added an old Eminence speaker and a grill and voila! We have a decent sounding speaker box that will fit in that old cab.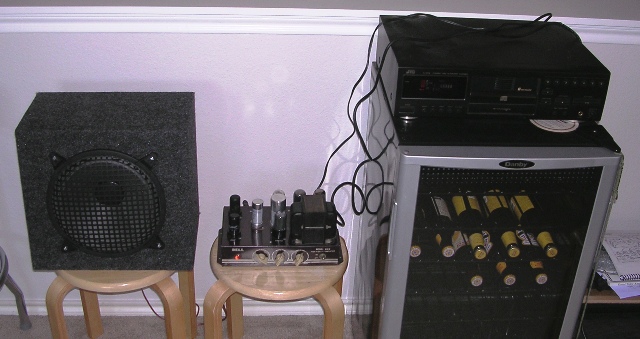 Burn-in

Burning in the amp with the purpose-built cab and a multi-CD player. Tossed in a boatload of Old Time Radio Shows to see if she would hold up. She worked just fine after four-hours of continuous play. This amp came with a schematic, but it was the later "B" version. This amp is from 1953 and as far as I can determine, is the earliest version of this model.


Although I do not have the schematic or info for this early version, click the links below for the Bell Sound 2122B info and schematic. Files are .pdf format:

Page 1

Page 2 (Chassis Top and Parts List)

Page 3 (Chassis bottom and Parts List)

Page 4 (Schematic)


---

Back to News | Back to Homepage


DISCLAIMER: This website is not affiliated with FMIC, Ampeg or Marshall.


---